Auckland
Meet the Team - Auckland
19-21 Fairfax Avenue, Penrose
Auckland 1061
PO Box 112360, Penrose
Auckland 1642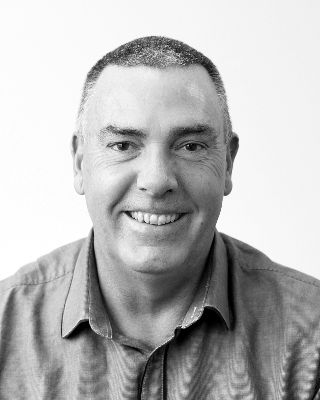 Paul Apperley
Branch Manager
Paul is an Architectural Consultant in our Auckland office, working alongside architects and designers to provide recommendations and solutions for commercial interiors, supported with acoustic and seismic ceiling design and calculations.
He has over 30 years experience within the commercial construction industry and has a passion for customer service and innovative solutions and design and with the support and backing of the full T&R team, can offer a complete range of products and outcomes for all applications in the commercial interior fit out market.
He enjoys most sports, time with his family and doesn't mind a round of golf or coaching a local football team.
Colin Eyre
Auckland Sales Manager
Colin looks after key customers and liaises with architects. Colin's passion has always been in the interior design industry and before immigrating from South Africa, he owned his own interior fit-out company in Johannesburg. Soon after arriving in New Zealand he joined T&R and 12 years ago he set up the Auckland branch of the company.
For Colin it is the stimulating environment and the team at T&R that makes all the difference. "I love the spark of the company, it's very personal and operates like a big family. We all look after each other and work cohesively across the country."
In his spare time Colin enjoys working around the home, gardening, cooking and is an avid snooker player.
Joel Smith
Key Account Manager (BCom)
Joel is in charge of T&R's key accounts and projects in the Auckland region. He works with the company's customers to provide good service as well as competitive pricing.
Joel has come from a business management background, helping to run a Scaffolding group within New Zealand, as well as site management for an Oil and Gas contractor in the UAE.
In his spare time he likes to keep very active, enjoying anything outdoors; surfing, hiking, cycling, snowboarding and more.
Jenny Parker
Architectural Consultant
Jenny has joined our Architectural Consultancy team in Auckland after 20 successful years' experience in Recruitment, specialising in the Building and Construction industry. She is also currently the President of the National Association of Woman in Construction (NAWIC) and is clearly passionate about the industry.
Jenny's history in the recruitment industry was based on generating professional relationships, key to which is trust and great communication. She also has a genuine interest in people and providing solutions to problems.
When Jenny is not consulting or raising the profile of women in construction, she enjoys mountain biking with her son, trampolining or socialising with great mates on Friday nights!
Rachel Buer (Mondays & Fridays)
Architectural Consultant (MBSc)
rachel@tr-interiorsystems.co.nz
Rachel is one of T&R's Auckland-based Architectural Consultants. She works alongside architects and designers, providing recommendations and technical support for interior acoustics and seismic ceiling design.
Rachel brings a fresh perspective and a high-tech view of the future to T&R. With a background in 3D modelling and virtual-reality environments, she thrives on enabling better understanding of designs through interactive experiences. She holds a Masters degree in Building Science from Victoria University of Wellington.
In her spare time, Rachel enjoys photography, health and fitness, and anything that gets her adrenaline pumping! She and her husband both hold national R1 Grade rally car licences for motorsport racing.
Kim Ramiah
Warehouse Logistics
Kim works closely with T&R's customers in the Auckland region to ensure every part of the ordering process goes smoothly. As well as dealing with customers face-to-face, he is in charge of ordering for the warehouse and makes sure the Auckland branch is always well stocked.
Kim is a Technician by trade, specialising in electronics. His previous experience includes warehouse logistics, sales, servicing and repairs of electronics, and all-round customer service.
Outside of work, Kim enjoys gaming or playing poker, spending time with his young family and keeping active.
Tirina Robinson
Warehouse Customer Services
Tirina works alongside Kim in a customer service role to provide T&R's Auckland customers with a seamless, efficient and enjoyable sales experience. Tirina manages day-to-day sales and inquiries, filling orders, assisting with delivery logistics, and managing the front shop and showroom.
Tirina comes from a background in consumer electronics sales and sales support. With over 25 years experience, including 23 years for the same company, she brings a comprehensive understanding of the true value of good customer service.
In her spare time, Tirina likes to garden, complete home renovations and spend time with her husband and two teenage children.
Warehouse
Aminiasi (Amini) Tonga Tatafu
Storeman & Deliveries
Tipe Apera
Storeman & Deliveries